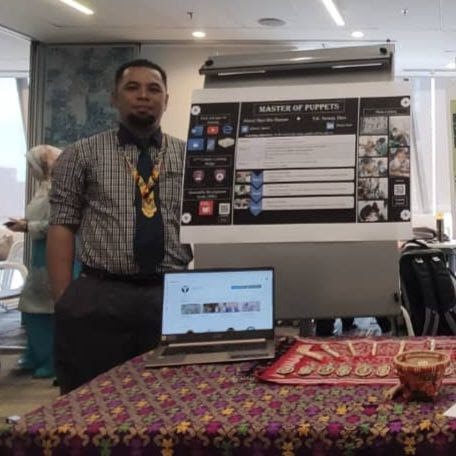 In our last Junior Innovate's Inpire Session, we listened to some of the incredible stories from Cikgu Hairul, whose STEM journey started in Daerah Daro, Sarawak.
Witnessing firsthand the power of innovation among students (from SK Semop to SK Sg Nibong), Cikgu Hairul was inspired to cultivate creativity, critical thinking, and hands-on learning. He realized that true learning happens when students step out of their comfort zones and engage in experiential activities (such as building of "Saga Contactless Dispenser 2.0" using Arduino project) rather than simply listening in the classroom. 
This experience triggered Cikgu Hairul to dive deeper into preparing his students for the future. A Twitter thread on difficult job interviews became a catalyst for his commitment to ensuring his students are well-equipped for the real world. But he didn't stop there! He hopes to become a Guru Juara Digital, bringing more gadgets and assets to the rural communities of Sarawak. 
Cikgu Hairul finds constant motivation from his son, an autistic learner, who perceives programming in Scratch as a gaming process. Despite a 30-year age gap, their journey together as learners in the field of innovation and STEM education keeps Cikgu Hairul inspired and motivated. 
Despite challenges such as limited resources and students lacking basic skills, Cikgu Hairul remains resourceful in his pursuit of knowledge. He leverages platforms like the Junior Innovate competition, gains professional skills from local Chumbaka partner such as Dr. Xavier, and takes advantage of the Raspberry Pi program initiated by the Sarawak state government. 
His advice to all aspiring teachers & learners is simple yet profound: "Jangan Takut" (Don't be afraid). Learn as much as possible, and if something goes wrong, don't worry, just start anew. This resonates with the open-source technology ethos. Let's not hold ourselves or our students back! Embrace the journey, have fun, and let creativity soar! 
Watch Cikgu Hairul's inspiring sharing in the video below. Join us in celebrating his dedication and passion for STEM education.
Together, we can empower learners and create a future filled with endless possibilities!